Stamping, painting and laser cutting services.
Centauro also provides services to third parties in areas of heavy stamping and painting. We make our facilities available to other companies in the automotive area.
Heavy stamping
OThe heavy stamping sector has 5 Presses (2 mechanical presses and 3 hydraulic presses). They are all double-action, with a capacity of up to 400 tons. Our staff is technically prepared to perform quality inspections piece by piece. We also have a MAG Welding sector for the finishing of parts and Point Welding by Induction line.
Laser Cutting
We also have 3D laser cutting machinery. Our three large machines guarantee the highest accuracy in the cutting and drilling of stamped parts.
Painting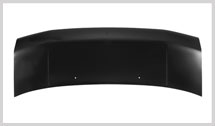 Our equipment meets the requirements of corrosion protection coating for further definitive painting. The painting system consists in a continuous line with 6 phases: alkaline degreasing, rinsing with demineralized water, phosphating with iron phosphate, new rinsing with demineralized water, immersion painting in 14,000 liters of water soluble black base, and oven drying at 180 degrees Celsius.
Centauro is ISO9001/2008 certified.

For further information , please e-mail: servicos@centaurobrasil.com.br or call (+55 11) 2147-2477 ask for Mr. Renato or Mr. Carlos.